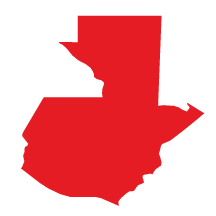 Guatemala
San Antonio
Apple. Caramel. Coconut.
Body: Full
Acidity: Crisp
Producer: Francisco Javier Gonzalez
Varietal(s): Typica. Bourbon. Caturra.
Growing Elevation: 1800 Meters
Processing: Washed. Dried on Patios.
Certifications: Microlot
Region: San Cristobal Cucho. San Marcos. Guatemala.
Finca San Antonio lies within the highlands of San Marcos, a land that is prime for coffee growing due to its rich volcanic soil. Producer Francisco Javier Gonzalez had been growing coffee for 65 years on his farm that is named after his beloved father. As he ages, his children and grandchildren have started helping with farm management. The coffee is dried on concrete patios and covered with nylon at night to protect it from rain and dew. Despite many years in the coffee industry, it wasn't until recently that Francisco started to sell his coffee in the specialty market.
He is grateful for this transition as it has allowed him to increase farm profitability, upgrade and renovate fermentation tanks, and keep the family tradition going. Francisco is likewise thankful that coffee has allowed him to maintain and support his children for many years.
MORE
LESS