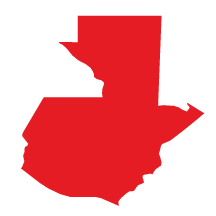 Guatemala
El Aguacate
Jasmine. Kiwi. Caramel.
Body: Full
Acidity: Crisp
Producer: Edy Jose Martinez
Varietal(s): Pacamara. Catuai. Anacafe 14. Cuscatleco.
Growing Elevation: 1200-1500 Meters.
Processing: Washed. Fermented for 16 hours. Dried on Raised Beds and Patios.
Region: Concepcion de las Minas. Chiquimula. Guatemala.
For Edy José Martinez, coffee growing is in the blood. Growing up, his family's main economic resource was coffee and he has continued on the coffee-growing tradition to this day. He has been producing coffee on his own since 2006-but it was only two years ago, with the assistance of Caravela Coffee, that he started producing specialty coffee. Shifting to specialty coffee has allowed Edy to give his family a better quality of life and provides him the opportunity to see where his coffee ends up along the supply chain.
One of Edy's main source of pride is seeing his efforts and dedication pay off in the cup quality of his coffee. Specialty coffee has completely changed Edy's vision of his product and it shows. This lovely microlot is full of floral notes with tasting and aroma notes of jasmine, sweet citrus, kiwi, and caramel.
MORE
LESS